Product Description
Rail Alignment Kit
For headrig primary breakdown line alignment
The Rail Alignment Kit (9106) brings an innovative solution to an old problem: the proper alignment of a headrig primary breakdown line. When coupled with our Sawmill Kit (9105) , the Rail Alignment Kit provides fast, accurate alignment of headrig carriage rails, band mill wheels and saws. These kits also guide the alignment of overhead end-dogger and round rail carriage systems.
Misalignment of these components can drastically reduce a log's yield. The Rail Alignment Kit helps restore these machines to proper specifications, simultaneously recovering lost revenue and improving lumber quality.
Rail Alignment Kit Components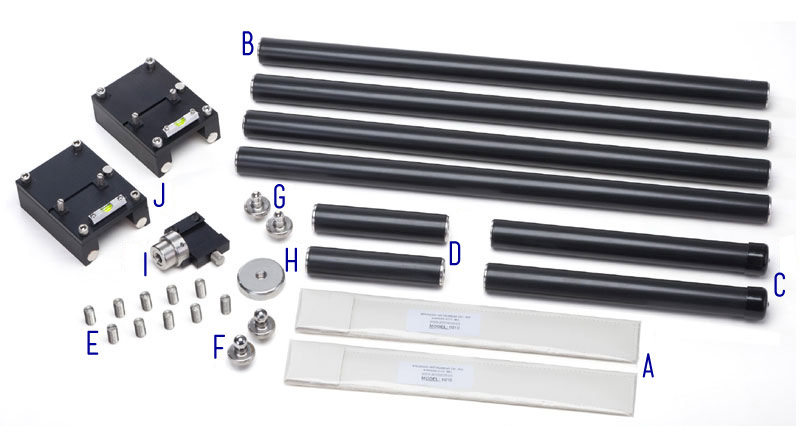 Legend
9106 English Kit
9106-M Metric Kit
Components
Qty
A
10 in scale
250 mm scale
B
20 in (508 mm) Extension Rod
4
C
10 in (254 mm) Extension Rod
2
D
5 in (127 mm) Extension Rod
2
E
Connector, Extension Rod
12406-1
10
G
1 in (25.4 mm) Concave End Tip
2
I
Scale Holder, Extension Rod
1
J
Scale Holder, Rail Fixture
18163
2
n.a.
Plastic Case w/ Foam Insert (not shown)
18316
1
Specifications
Plastic case: Includes custom foam insert
Case size: 26 in x 16 in x 4¾ in
(660 mm x 406 mm x 121 mm)
Weight: 16 lbs (7.2 kg)
Rod length tolerances: ±.050 in (±1.3 mm)
Documents